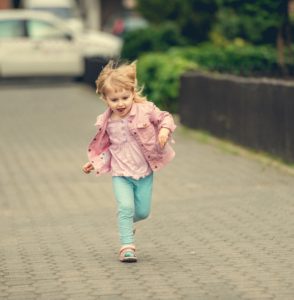 Yesterday SweetPea and I were walking home, and she all of a sudden turned around and ran the other way. "Home is THIS way," I pointed. She paused, then continued running the other direction.
"Stop!" I said firmly, but she continued on, giggling in anticipation of the chase.
I was fuming. I would love to say that my anger was fueled by worry of her running into the street, but no; I was furious that she disobeyed. How DARE she blatantly defy me!
With my blood boiling, I set of in a stern walk, determined not to make this fun by chasing her.
Is Punishment Ever Justified?
It seems every time I talk about parenting without punishment, some one says, "Surely you have to punish sometimes.  What if they're in danger?" And almost always, the example they give is running into the street.
But teaching and punishing don't work together. Punishing, like any other threat, sends kids into their "downstairs" brain, which houses the "fight-flight-freeze" response. They can't take in new information; they can only look for ways to "survive" the current crisis.
If punishment isn't the answer, then what can we do?
What do we want them to learn?
Punishment, at its heart, teaches people to fear what other people can do to them. That's not something I want my daughter to associate with me.
I want her to learn how to learn how to evaluate risks herself, to see beauty in the world around her, to be kind and considerate, to stand up for herself and for others, to have fun in life.  Above all, I want her to know, not just in her head, but with her whole being, that I cherish her.
Connection Before Correction
As I walked over to get SweetPea, I thought about what I wanted to accomplish.  How could I stay connected?  How do I teach her to stop when I tell her to, in order to keep her safe. What did she need from me?
I knew that it was the end of a busy day for her, one where she had not gotten as much of my attention as she would have liked; an explanation was not going to "get through."
As I walked toward her, I tried to calm myself, breathing deeply and focusing on connecting. She really had not been in any danger. She stayed on the sidewalk, and the road itself was not highly trafficked.
Seeing things from her perspective, I realized that we had just gotten to the top of a hill, and right now she LOVES running downhill. It was an irresistible opportunity for her.  And the look she gave me was an invitation to play one of our favorite games: chase.
My daughter wanted to play!
Connection Brings Creative Solutions
One of the Seven Habits of Highly Effective People is to seek to understand the other person before you get them to understand you. By entering their world, you help them see you as an ally, a friend; they feel safe with you.
So as I scooped SweetPea up, I did a quick check-in. "We were walking together and we got to the top of the hill, and you wanted to run down." "Yeah." "Mama said 'Stop!' and you kept running." "Yeah. Hid in the grass." "Yes, you hid in the grass. That looked like fun. I'm hungry and getting cranky, and I was angry that I had to walk down the hill again to get you." "Yeah. Hug!"  (I was pleasantly surprised by the empathy she demonstrated!)  "It's important to stop when mama says, so I can keep you safe. Let's practice!"
I told her to run ahead of me. Every so often, I'd shout stop. She had to stay still until I said go. (This is exactly the same as Red Light, Green Light, but I wanted to keep the word STOP)  I varied how often I said stop and how quickly I said go again. She loved it! Besides reinforcing the practice of stopping when mama says, this is also a great game for building executive function (the part of our brain that filters out distractions, focuses on the task at hand, and allows us to switch mental gears smoothly.)  And the game kept us moving forward quickly, so that I could stop fretting about a late dinner. Win-win-win!
We arrived home, happy, connected, and tired from playing. Imagine how differently the evening would have ended had I scolded her.  Would she have been any more likely to heed a STOP in the future? Would we have had as much fun? Would I have felt the satisfaction of allowing a solution to surface that honored both of us?
My daughter dared me to chase her when I really didn't want to. Conventional parenting wisdom called for me to assert my authority as the parent, to not let her "get away with" disobeying. But I dared to reach for connection instead, and we both ended up on the winning team.
What about you? When do you feel pressured (either internally or externally) to "lay down the law"? Have you ever tried creative solution and had it work? Tell us in the comments.